{"showBreadcrumbs":true,"breadcrumbs":[{"title":"Siemens EDA Software","path":"/en-US/"},{"title":"Electronic Systems Design","path":"/en-US/pcb"},{"title":"Xpedition Enterprise","path":"/en-US/pcb/xpedition-enterprise"},{"title":"Design Verification","path":"/en-US/pcb/xpedition-enterprise/design-verification"},{"title":"Vibration & Stress Analysis","path":""}],"tagline":"Overview","title":"Vibration & Stress Analysis","description":"Understanding the physical constraints and fatigue issues for a particular design prior to manufacturing is essential for reducing board failures and decreasing time to market for electronic products.","pricingCurrency":"US$","image":{"url":"https://images.sw.cdn.siemens.com/siemens-disw-assets/public/27g2ITbDFmAqeA7zZnX1JA/en-US/Vibration_analysis1-640x480.png?w=640","alt":"Snapshot of vibration analysis simulation in Xpedition","linkData":"{\"name\":\"Vibration analysis1-640x480\",\"id\":\"27g2ITbDFmAqeA7zZnX1JA\",\"contentType\":\"image/png\"}"},"secondaryButton":{"text":"Watch Demo","interaction":"On Demand Webinar Clicked","env":"master","resource":{"ids":["bYlA0vkS7BTE0NZ2nM6Z0"],"mode":"selected","query":{"q":"Simulating Vibration & Acceleration in the Xpedition Design Flow","sorts":[{"field":"publishedDate","order":"desc"}],"filters":[{"field":"collection","values":["resource"],"operator":"OR"}],"postFilters":[],"verboseLocalization":true},"idsQuery":{"size":1,"filters":[{"field":"collection","values":["resource"],"operator":"OR"},{"field":"id","values":["bYlA0vkS7BTE0NZ2nM6Z0"],"operator":"OR"}],"verboseLocalization":true}},"leftIcon":false,"locale":"en-US"},"phoneIcon":true}
Overview
Vibration & Stress Analysis
Understanding the physical constraints and fatigue issues for a particular design prior to manufacturing is essential for reducing board failures and decreasing time to market for electronic products.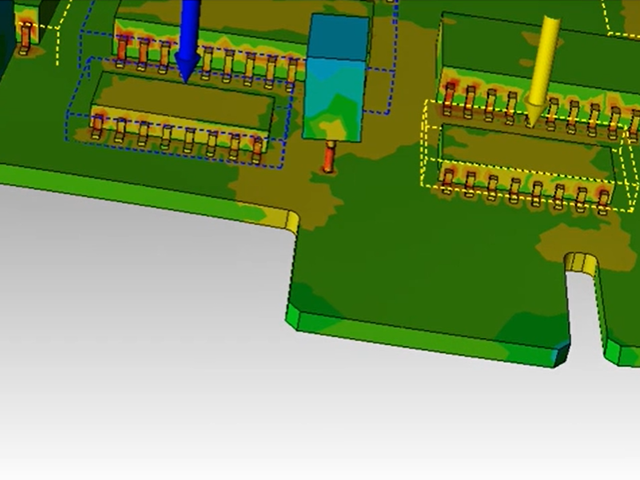 Key Features
Optimize Designs with Acceleration & Vibration Analysis
Xpedition Design for Reliability (DfR) enables early detection of PCB design vulnerabilities due to physical use, reducing costs and shortening cycle time. Xpedition DfR provides two options for quick PCB design simulation: vibration analysis and constant acceleration.