{"showBreadcrumbs":true,"breadcrumbs":[{"title":"Siemens EDA Software","path":"/en-US/"},{"title":"Electronic Systems Design","path":"/en-US/pcb"},{"title":"Xpedition Enterprise","path":"/en-US/pcb/xpedition-enterprise"},{"title":"Design Data Integrity","path":"/en-US/pcb/xpedition-enterprise/design-data-integrity"},{"title":"Model-Driven Part Creation","path":""}],"tagline":"Overview","title":"Model-Driven Part Creation","description":"A powerful component and ECAD library management solution helps librarians speed up the process of researching and selecting parts.","pricingCurrency":"US$","image":{"url":"https://images.sw.cdn.siemens.com/siemens-disw-assets/public/6yYrmQddef43x8TUKOWG3z/en-US/model-driven_part_creation-640x480.jpg?w=640","alt":"Chart showing relationship from part search to part creation","linkData":"{\"name\":\"model-driven part creation-640x480\",\"id\":\"6yYrmQddef43x8TUKOWG3z\",\"contentType\":\"image/jpeg\"}"},"secondaryButton":{"text":"Watch Demo","env":"master","resource":{"ids":["Kf8xUZRNdJ2IN0G44t4YN"],"mode":"selected","query":{"q":"ECAD","sorts":[{"field":"publishedDate","order":"desc"}],"filters":[{"field":"collection","values":["resource"],"operator":"OR"}],"postFilters":[],"verboseLocalization":true},"idsQuery":{"size":1,"filters":[{"field":"collection","values":["resource"],"operator":"OR"},{"field":"id","values":["Kf8xUZRNdJ2IN0G44t4YN"],"operator":"OR"}],"verboseLocalization":true}},"locale":"en-US"},"phoneIcon":true,"moreInformation":"Get in touch with our sales team 1-800-547-3000"}
Overview
Model-Driven Part Creation
A powerful component and ECAD library management solution helps librarians speed up the process of researching and selecting parts.
---
Get in touch with our sales team 1-800-547-3000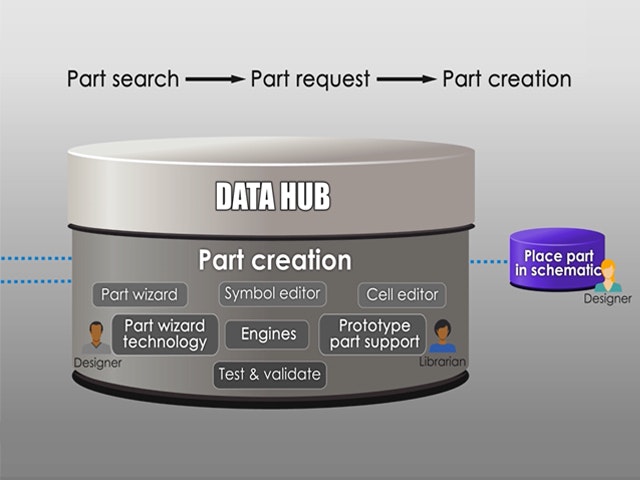 Key Features
Create and Manage PCB Parts in One Central Library
PartQuest provides the building blocks needed to design new products fast. With free access to millions of electronic components, you can quickly search, select, and drag & drop the symbols, footprints, and 3D models you need in seconds.