{"showBreadcrumbs":true,"breadcrumbs":[{"title":"Siemens EDA Software","path":"/en-US/"},{"title":"Electronic Systems Design","path":"/en-US/pcb"},{"title":"Xpedition Enterprise","path":"/en-US/pcb/xpedition-enterprise"},{"title":"Design Data Integrity","path":"/en-US/pcb/xpedition-enterprise/design-data-integrity"},{"title":"Library Management","path":""}],"tagline":"Overview","title":"Library Management","description":"Leverage a central library to manage all aspects of the logical to physical part data required in complex PCB systems. The library management solution is scalable, supporting simpler requirements for smaller companies, up to more complex requirements incorporating full component management.","pricingCurrency":"US$","image":{"url":"https://images.sw.cdn.siemens.com/siemens-disw-assets/public/I3qCAeNohepN7YuOS961O/en-US/Library_management6-640x480.jpg?w=640","linkData":"{\"name\":\"Library management6-640x480\",\"id\":\"I3qCAeNohepN7YuOS961O\",\"contentType\":\"image/jpeg\"}"},"secondaryButton":{"text":"Watch Demo","env":"master","resource":{"ids":["Kf8xUZRNdJ2IN0G44t4YN"],"mode":"selected","query":{"q":"ECAD","sorts":[{"field":"publishedDate","order":"desc"}],"filters":[{"field":"collection","values":["resource"],"operator":"OR"}],"postFilters":[],"verboseLocalization":true},"idsQuery":{"size":1,"filters":[{"field":"collection","values":["resource"],"operator":"OR"},{"field":"id","values":["Kf8xUZRNdJ2IN0G44t4YN"],"operator":"OR"}],"verboseLocalization":true}},"locale":"en-US"},"phoneIcon":true,"moreInformation":"Get in touch with our sales team 1-800-545-3000"}
Overview
Library Management
Leverage a central library to manage all aspects of the logical to physical part data required in complex PCB systems. The library management solution is scalable, supporting simpler requirements for smaller companies, up to more complex requirements incorporating full component management.
---
Get in touch with our sales team 1-800-545-3000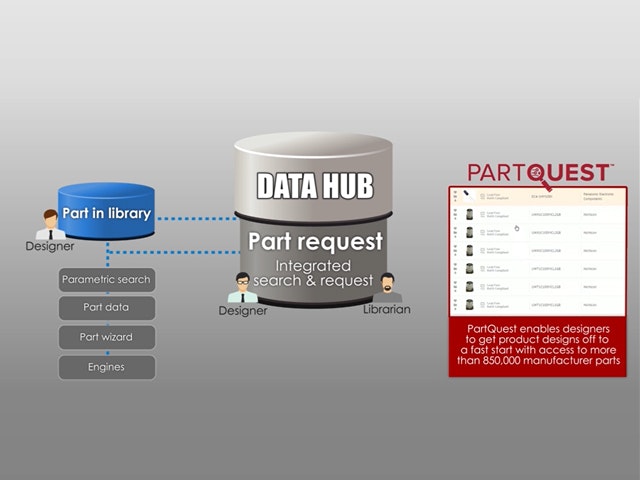 Key functionality
Simplify enterprise library management
Manage library data from part request, to part creation of multi-discipline models, to library distribution with filtering and timely updates, to where-used analysis and collaboration, with enterprise administration to control security and enable 3rd party integrations.