{"showBreadcrumbs":true,"breadcrumbs":[{"title":"Siemens EDA Software","path":"/en-US/"},{"title":"Electronic Systems Design","path":"/en-US/pcb"},{"title":"Xpedition Enterprise","path":"/en-US/pcb/xpedition-enterprise"},{"title":"Design Data Integrity","path":"/en-US/pcb/xpedition-enterprise/design-data-integrity"},{"title":"Design Data Management","path":""}],"tagline":"Overview","title":"Design Data Management","description":"Integrate and manage Xpedition design data through the entire PCB design lifecycle.","pricingCurrency":"US$","image":{"url":"https://images.sw.cdn.siemens.com/siemens-disw-assets/public/VmFgFsaSm6rl3SSTTcTvx/en-US/Design_data_management-640x480.jpg?w=640","linkData":"{\"name\":\"Design data management-640x480\",\"id\":\"VmFgFsaSm6rl3SSTTcTvx\",\"contentType\":\"image/jpeg\"}"},"secondaryButton":{"text":"Watch Demo","env":"master","resource":{"ids":["2suVcFxO7yiMcLBqqhhU2X"],"mode":"selected","query":{"q":"Electronic Design in Pro","sorts":[{"field":"publishedDate","order":"desc"}],"filters":[{"field":"collection","values":["resource"],"operator":"OR"}],"postFilters":[],"verboseLocalization":true},"idsQuery":{"size":1,"filters":[{"field":"collection","values":["resource"],"operator":"OR"},{"field":"id","values":["2suVcFxO7yiMcLBqqhhU2X"],"operator":"OR"}],"verboseLocalization":true}},"locale":"en-US"},"phoneIcon":true,"moreInformation":"Get in touch with our sales team 1-800-545-3000"}
Overview
Design Data Management
Integrate and manage Xpedition design data through the entire PCB design lifecycle.
---
Get in touch with our sales team 1-800-545-3000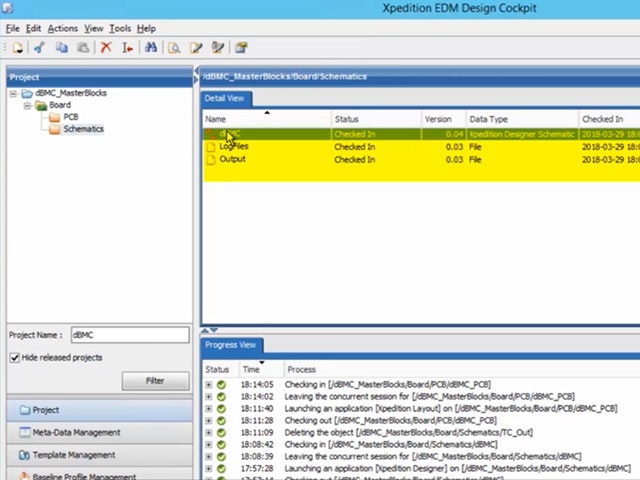 Key Features
Centralized Environment for Managing PCB Design Data
Xpedition EDM provides a fully integrated PCB design data management infrastructure, from initial system definition through the design process, to release to manufacturing. Improve individual or team design with enhanced security, consistency, metric collection, and process control.