{"showBreadcrumbs":true,"breadcrumbs":[{"title":"Siemens EDA Software","path":"/en-US/"},{"title":"IC Tool Portfolio","path":"/en-US/ic"},{"title":"Silicon Lifecycle Solutions","path":"/en-US/ic/tessent"},{"title":"Tessent Test Solutions","path":"/en-US/ic/tessent/test"},{"title":"Tessent MissionMode","path":""}],"tagline":"Overview","title":"Tessent MissionMode","description":"Tessent MissionMode provides automation and on-chip IP to enable semiconductor chips in an automotive electronics system to be tested and diagnosed at any point during a vehicle's functional operation. This helps to achieve ISO 26262 safety and long-term reliability requirements.","pricingCurrency":"US$","image":{"url":"https://images.sw.cdn.siemens.com/siemens-disw-assets/public/5d4wyOIKXyzMwRrotHzxtL/en-US/L4-tessent-missionmode-offer-image-640x480.jpg?w=640","alt":"Image of Tessent MissionMode connecting devices in the field to analysis software.","linkData":"{\"name\":\"L4-tessent-missionmode-offer-image-640x480\",\"id\":\"5d4wyOIKXyzMwRrotHzxtL\",\"contentType\":\"image/jpeg\"}"},"secondaryButton":{"text":"Read Fact Sheet","env":"master","resource":{"ids":["6x8aZrAhzBc8HMZMaa7IgM"],"mode":"selected","query":{"q":"MissionMode","sorts":[{"field":"publishedDate","order":"desc"}],"filters":[{"field":"collection","values":["resource"],"operator":"OR"}],"postFilters":[],"verboseLocalization":true},"idsQuery":{"size":1,"filters":[{"field":"collection","values":["resource"],"operator":"OR"},{"field":"id","values":["6x8aZrAhzBc8HMZMaa7IgM"],"operator":"OR"}],"verboseLocalization":true}},"locale":"en-US"},"phoneIcon":true,"moreInformation":"Get in touch with our technical team: 1-800-547-3000"}
Overview
Tessent MissionMode
Tessent MissionMode provides automation and on-chip IP to enable semiconductor chips in an automotive electronics system to be tested and diagnosed at any point during a vehicle's functional operation. This helps to achieve ISO 26262 safety and long-term reliability requirements.
---
Get in touch with our technical team: 1-800-547-3000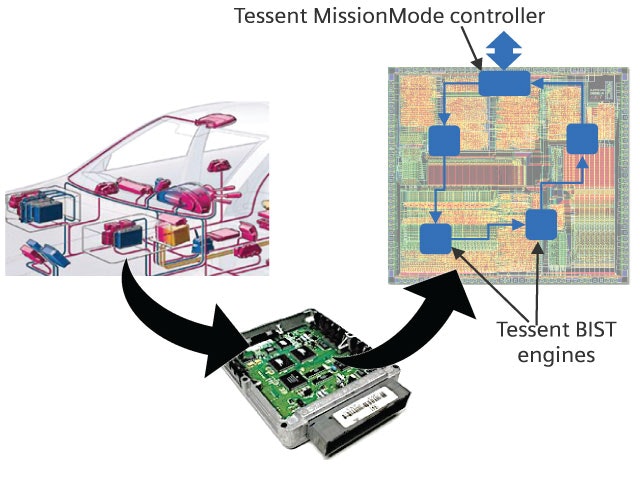 Key Features
In-System Test and Diagnosis of Automotive ICs
Tessent MissionMode is the only commercial solution that provides the infrastructure for system software-based access to any test and diagnosis capabilities integrated within an automotive chip.
Ready to learn more about Tessent?
We're standing by to answer your questions.


Tessent Blog
Tessent Silicon Lifecycle solutions provide IP and applications that detect, mitigate and eliminate risks throughout the IC lifecycle, from DFT through continuous IC monitoring.
Support Center
The Siemens Support Center provides you with everything in one easy-to-use location – knowledgebase, product updates, documentation, support cases, license/order information, and more.
EDA Consulting
Helping you achieve maximum business impact by addressing your complex technology and enterprise challenges with a unique blend of development experience, design knowledge, and methodology expertise.