{"showBreadcrumbs":true,"breadcrumbs":[{"title":"Siemens EDA Software","path":"/en-US/"},{"title":"IC Tool Portfolio","path":"/en-US/ic"},{"title":"Silicon Lifecycle Solutions","path":"/en-US/ic/tessent"},{"title":"Tessent Test Solutions","path":"/en-US/ic/tessent/test"},{"title":"Tessent MemoryBIST","path":""}],"tagline":"Overview","title":"Tessent MemoryBIST ","description":"Tessent MemoryBIST provides a complete solution for at-speed test, diagnosis, repair, debug, and characterization of embedded memories. Leveraging a flexible hierarchical architecture, built-in self-test and self-repair can be integrated in individual cores as well as at the top level.","pricingCurrency":"US$","image":{"url":"https://images.sw.cdn.siemens.com/siemens-disw-assets/public/5smKhwhQRIaVnWBKAvd3Gh/en-US/MBIST-architecture-640x480.jpg?w=640","linkData":"{\"name\":\"tessent-memorybist-promo-640x480\",\"id\":\"5smKhwhQRIaVnWBKAvd3Gh\",\"contentType\":\"image/jpeg\"}"},"secondaryButton":{"text":"Read Fact Sheet","env":"master","resource":{"ids":["75rIuhWdVZXo7gHtSUIQdv"],"mode":"selected","query":{"q":"memoryBIST","sorts":[{"field":"publishedDate","order":"desc"}],"filters":[{"field":"collection","values":["resource"],"operator":"OR"}],"postFilters":[],"verboseLocalization":true},"idsQuery":{"size":1,"filters":[{"field":"collection","values":["resource"],"operator":"OR"},{"field":"id","values":["75rIuhWdVZXo7gHtSUIQdv"],"operator":"OR"}],"verboseLocalization":true}},"locale":"en-US"},"phoneIcon":true,"moreInformation":"Get in touch with our technical team: 1-800-547-3000."}
Overview
Tessent MemoryBIST
Tessent MemoryBIST provides a complete solution for at-speed test, diagnosis, repair, debug, and characterization of embedded memories. Leveraging a flexible hierarchical architecture, built-in self-test and self-repair can be integrated in individual cores as well as at the top level.
---
Get in touch with our technical team: 1-800-547-3000.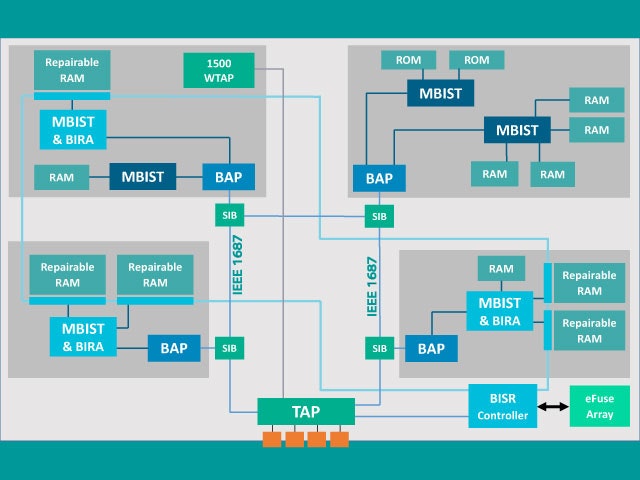 Key features
Industry-Leading Memory Built-in Self-Test
Tessent MemoryBIST includes a uniquely comprehensive automation flow that provides design rule checking, test planning, integration, and verification all at the RTL or gate level.
Ready to learn more about Tessent?
We're standing by to answer your questions.


Tessent Blog
Tessent Silicon Lifecycle solutions provide IP and applications that detect, mitigate and eliminate risks throughout the IC lifecycle, from DFT through continuous IC monitoring.
Support Center
The Siemens Support Center provides you with everything in one easy-to-use location – knowledgebase, product updates, documentation, support cases, license/order information, and more.
EDA Consulting
Helping you achieve maximum business impact by addressing your complex technology and enterprise challenges with a unique blend of development experience, design knowledge, and methodology expertise.