{"showBreadcrumbs":true,"breadcrumbs":[{"title":"Siemens EDA Software","path":"/en-US/"},{"title":"IC Tool Portfolio","path":"/en-US/ic"},{"title":"Silicon Lifecycle Solutions","path":"/en-US/ic/tessent"},{"title":"Tessent Test Solutions","path":"/en-US/ic/tessent/test"},{"title":"Tessent Connect","path":""}],"tagline":"Overview","title":"Tessent Connect","description":"Tessent Connect reduces DFT implementation effort with an optimal automation of the Tessent Shell flow for hierarchical DFT. This addresses the challenges of implementing hierarchical DFT by using intent-driven automation, universal test infrastructure, and future-proof customization.","pricingCurrency":"US$","image":{"url":"https://images.sw.cdn.siemens.com/siemens-disw-assets/public/6o5f0aETAiSBpfacO6M7dK/en-US/tessent-connect-offer-imge-640x480.jpg?w=640","alt":"Image showing the three elements of Tessent Connect: intent-driven automation, universal test infrastructure, and future-proof customization","linkData":"{\"name\":\"tessent-connect-offer-imge-640x480\",\"id\":\"6o5f0aETAiSBpfacO6M7dK\",\"contentType\":\"image/jpeg\"}"},"secondaryButton":{"text":"Read Fact Sheet","env":"master","resource":{"ids":["2GVZBTeXIcR7JGxykoFnGB"],"mode":"selected","query":{"q":"connect","sorts":[{"field":"publishedDate","order":"desc"}],"filters":[{"field":"collection","values":["resource"],"operator":"OR"}],"postFilters":[],"verboseLocalization":true},"idsQuery":{"size":1,"filters":[{"field":"collection","values":["resource"],"operator":"OR"},{"field":"id","values":["2GVZBTeXIcR7JGxykoFnGB"],"operator":"OR"}],"verboseLocalization":true}},"locale":"en-US"},"phoneIcon":true,"moreInformation":"Get in touch with our technical team: 1-800-547-3000"}
Overview
Tessent Connect
Tessent Connect reduces DFT implementation effort with an optimal automation of the Tessent Shell flow for hierarchical DFT. This addresses the challenges of implementing hierarchical DFT by using intent-driven automation, universal test infrastructure, and future-proof customization.
---
Get in touch with our technical team: 1-800-547-3000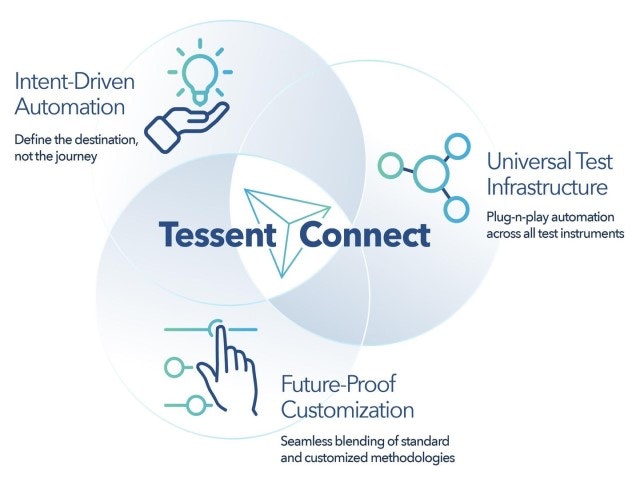 Key Features
Most Effective DFT Implementation Automation
Tessent Connect helps IC design teams achieve manufacturing test quality goals faster and with fewer resources compared to traditional DFT methods. This production-proven automation enables a simple, consolidated hand-off between teams, resulting in a sustainable and predictable flow.
"eSilicon uses Tessent Connect to help us meet our aggressive production schedules and deliver industry-leading ICs like those based on eSilicon's neuASIC 7nm platform for machine learning."
Joseph Reynick, Director of DFT services , eSilicon
Ready to learn more about Tessent?
We're standing by to answer your questions.

Tessent Blog
Tessent Silicon Lifecycle solutions provide IP and applications that detect, mitigate and eliminate risks throughout the IC lifecycle, from DFT through continuous IC monitoring.
Support Center
The Siemens Support Center provides you with everything in one easy-to-use location – knowledgebase, product updates, documentation, support cases, license/order information, and more.
EDA Consulting
Helping you achieve maximum business impact by addressing your complex technology and enterprise challenges with a unique blend of development experience, design knowledge, and methodology expertise.