{"showBreadcrumbs":true,"breadcrumbs":[{"title":"Siemens EDA Software","path":"/en-US/"},{"title":"IC Tool Portfolio","path":"/en-US/ic"},{"title":"Catapult HLS & Verification","path":"/en-US/ic/catapult-high-level-synthesis"},{"title":"HLS Tools","path":"/en-US/ic/catapult-high-level-synthesis/hls"},{"title":"C++/SystemC Synthesis","path":""}],"tagline":"Overview","title":"C++/SystemC Synthesis","description":"Catapult is the leading HLS solution for ASIC and FPGA. Supporting C++ and SystemC, designers work in their preferred language, moving up in productivity and quality. With 80% less coding, and simulation speeds up to 1,000x faster than Verilog. HLS Design and verification is the edge you need.","pricingCurrency":"US$","image":{"url":"https://images.sw.cdn.siemens.com/siemens-disw-assets/public/5mcynlQGwLvqTMolttKEaI/en-US/Catapult_Screen_Shot_640x480.png?w=640","alt":"Catapult GUI image","linkData":"{\"name\":\"Catapult Screen Shot 640x480\",\"id\":\"5mcynlQGwLvqTMolttKEaI\",\"contentType\":\"image/png\"}"},"primaryButton":{"text":"Read Fact Sheet","resource":{"ids":["117nas4GgrkL7g0WNcgyYw"],"mode":"selected","query":{"q":"Catapult High-Level Synthesis and Verification","sorts":[{"field":"publishedDate","order":"desc"}],"filters":[{"field":"collection","values":["resource"],"operator":"OR"}],"postFilters":[],"verboseLocalization":true},"idsQuery":{"size":1,"filters":[{"field":"collection","values":["resource"],"operator":"OR"},{"field":"id","values":["117nas4GgrkL7g0WNcgyYw"],"operator":"OR"}],"verboseLocalization":true}},"env":"master","locale":"en-US"},"secondaryButton":{"text":"Read White Paper","resource":{"ids":["jhRBjr5Xy91n3za0m6bOg"],"mode":"selected","query":{"q":"Chips&Media: Design and Verification of Deep Learning","sorts":[{"field":"publishedDate","order":"desc"}],"filters":[{"field":"collection","values":["resource"],"operator":"OR"}],"postFilters":[],"verboseLocalization":true},"idsQuery":{"size":1,"filters":[{"field":"collection","values":["resource"],"operator":"OR"},{"field":"id","values":["jhRBjr5Xy91n3za0m6bOg"],"operator":"OR"}],"verboseLocalization":true}},"env":"master","locale":"en-US"}}
Overview
C++/SystemC Synthesis
Catapult is the leading HLS solution for ASIC and FPGA. Supporting C++ and SystemC, designers work in their preferred language, moving up in productivity and quality. With 80% less coding, and simulation speeds up to 1,000x faster than Verilog. HLS Design and verification is the edge you need.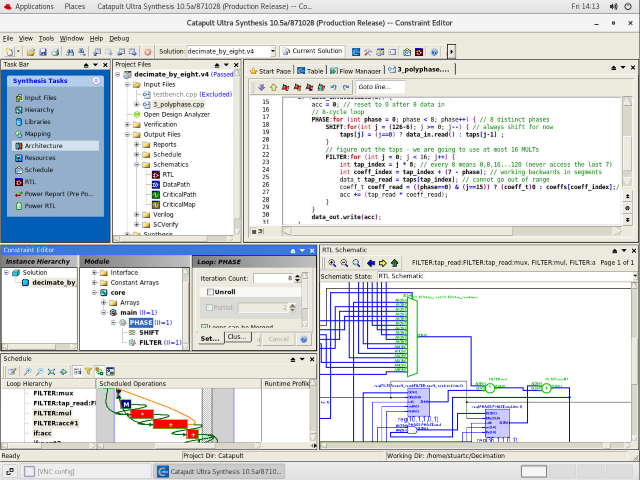 C++/SystemC Synthesis Resources
KEY FEATURES
Blazing Fast Design, Verification & Implementation
HLS is more than just turning C++/SystemC into RTL. Catapult delivers ASIC & FPGA "right first time" RTL for design, verification and implementation. Avoid surprises with Design Checking, improve functional coverage with Catapult Coverage, and close timing on the latest nodes with Catapult Physical.
"With the Catapult Flow, RTL debug literally disappears. The C model is validated in its environment, and from there correct-by-construction RTL is created. This reduces the verification effort dramatically."
Giuseppe Bonanno, Senior Engineer R&D, STMicroelectronics
Ready to have a conversation about C++/SystemC?
Any questions you may have, we will have the answers!
Join the IC Design Community
Join the discussion on new topics, features, content, and technical experts.
Catapult Support
Access detailed documentation, on-demand training resources and more.
EDA Consulting
Helping you achieve maximum business impact by addressing your complex technology and enterprise challenges with a unique blend of development experience, design knowledge, and methodology expertise.