{"showBreadcrumbs":true,"breadcrumbs":[{"title":"Siemens EDA Software","path":"/en-US/"},{"title":"IC Tool Portfolio","path":"/en-US/ic"},{"title":"Catapult High-Level Synthesis","path":"/en-US/ic/catapult-high-level-synthesis"},{"title":"High-Level Verification","path":"/en-US/ic/catapult-high-level-synthesis/hls-verification"},{"title":"SLEC","path":""}],"tagline":"Overview","title":"C++/SystemC/RTL Formal","description":"Formally verify the correctness of hand-written or Catapult-generated RTL vs High-Level models using Sequential Logic Equivalence Checking. Even with differences in language, timing, and interfaces, SLEC-System verifies manual RTL with SLEC-HLS proving C++ vs Catapult generated RTL.","pricingCurrency":"US$","image":{"url":"https://images.sw.cdn.siemens.com/siemens-disw-assets/public/7bYm5D0BUOcEc66s9yejQT/en-US/slec-system-flow-promo-640x480.jpg?w=640","alt":"slec system flow promo\n\n","linkData":"{\"name\":\"slec-system-flow-promo-640x480.jpg\",\"id\":\"7bYm5D0BUOcEc66s9yejQT\",\"contentType\":\"image/jpeg\"}"},"primaryButton":{"text":"Read Fact Sheet","env":"master","resource":{"ids":["1k67KCAvICWaDj7NENUIcD"],"mode":"selected","query":{"q":"SLEC System","sorts":[{"field":"publishedDate","order":"desc"}],"filters":[{"field":"collection","values":["resource"],"operator":"OR"}],"postFilters":[],"verboseLocalization":true},"idsQuery":{"size":1,"filters":[{"field":"collection","values":["resource"],"operator":"OR"},{"field":"id","values":["1k67KCAvICWaDj7NENUIcD"],"operator":"OR"}],"verboseLocalization":true}},"locale":"en-US"},"secondaryButton":{"text":"Read White Paper","env":"master","resource":{"ids":["3reR7fz4DH3YQxIEYy6cKy"],"mode":"selected","query":{"q":"Renesas","sorts":[{"field":"publishedDate","order":"desc"}],"filters":[{"field":"collection","values":["resource"],"operator":"OR"}],"postFilters":[{"field":"resourceType","values":[],"operator":"OR"}],"verboseLocalization":true},"idsQuery":{"size":1,"filters":[{"field":"collection","values":["resource"],"operator":"OR"},{"field":"id","values":["3reR7fz4DH3YQxIEYy6cKy"],"operator":"OR"}],"verboseLocalization":true}},"leftIcon":false,"locale":"en-US"}}
Overview
C++/SystemC/RTL Formal
Formally verify the correctness of hand-written or Catapult-generated RTL vs High-Level models using Sequential Logic Equivalence Checking. Even with differences in language, timing, and interfaces, SLEC-System verifies manual RTL with SLEC-HLS proving C++ vs Catapult generated RTL.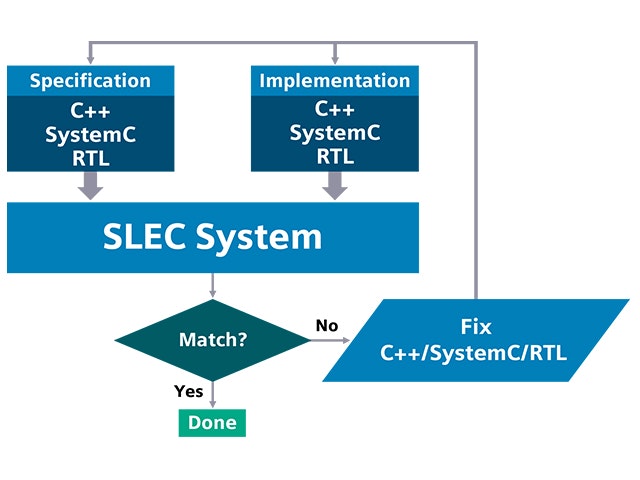 KEY FEATURES
Formal Verification of C++/SystemC/RTL
When designers move high-level design descriptions into RTL, or make power optimizations to RTL, they need to know if the result is functionally equivalent to the original, possibly high-level description. SLEC delivers solutions for manual, HLS, and power optimization RTL verification.
Ready to have a conversation about SLEC System?
Any questions you may have, we have answers.
Join the IC Design Community
Join the discussion on new topics, features, content, and technical experts.
Catapult Support
Access detailed documentation, on-demand training resources and more.
EDA Consulting
Helping you achieve maximum business impact by addressing your complex technology and enterprise challenges with a unique blend of development experience, design knowledge, and methodology expertise.