{"showBreadcrumbs":true,"breadcrumbs":[{"title":"Siemens EDA Software","path":"/en-US/"},{"title":"IC Tool Portfolio","path":"/en-US/ic"},{"title":"Catapult High-Level Synthesis","path":"/en-US/ic/catapult-high-level-synthesis"},{"title":"High-Level Verification","path":"/en-US/ic/catapult-high-level-synthesis/hls-verification"},{"title":"Catapult Coverage","path":""}],"tagline":"Overview","title":"Catapult Coverage","description":"Catapult Coverage provides HLS-aware code coverage, including statement, branch, FEC, toggle and array access coverage, for C++/SystemC HLS designs. It also provides SV-inspired functional coverage with support for covergroups, coverpoints, bins and crosses within C++/SystemC test benches.","pricingCurrency":"US$","image":{"url":"https://images.sw.cdn.siemens.com/siemens-disw-assets/public/1sPIuqmJfwOBw8GR4ytR5K/en-US/fc-catapult-coverage-1120-1-promo-640x480.jpg?w=640","alt":"Coverage provides HLS-aware code coverage for C++/SystemC HLS designs.","linkData":"{\"name\":\"fc-catapult-coverage-1120-1-promo-640x480\",\"id\":\"1sPIuqmJfwOBw8GR4ytR5K\",\"contentType\":\"image/jpeg\"}"},"secondaryButton":{"text":"Read Fact Sheet","env":"master","resource":{"ids":["117nas4GgrkL7g0WNcgyYw"],"mode":"selected","query":{"q":"Catapult High-Level Synthesis and Verification","sorts":[{"field":"publishedDate","order":"desc"}],"filters":[{"field":"collection","values":["resource"],"operator":"OR"}],"postFilters":[],"verboseLocalization":true},"idsQuery":{"size":1,"filters":[{"field":"collection","values":["resource"],"operator":"OR"},{"field":"id","values":["117nas4GgrkL7g0WNcgyYw"],"operator":"OR"}],"verboseLocalization":true}},"locale":"en-US"}}
Overview
Catapult Coverage
Catapult Coverage provides HLS-aware code coverage, including statement, branch, FEC, toggle and array access coverage, for C++/SystemC HLS designs. It also provides SV-inspired functional coverage with support for covergroups, coverpoints, bins and crosses within C++/SystemC test benches.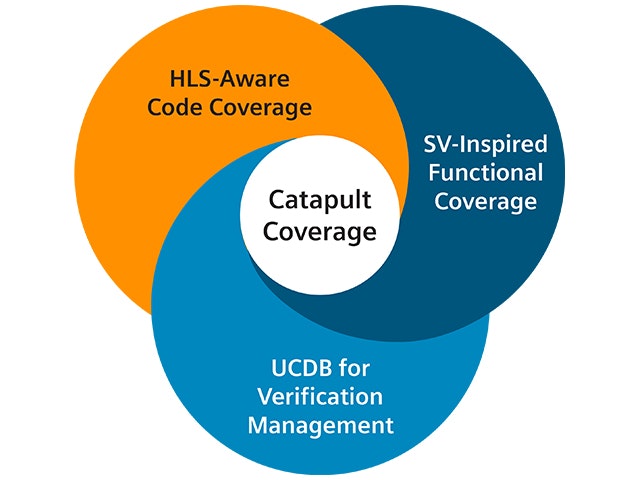 Key Features
Catapult Coverage Accelerates Verification Before RTL
Use traditional RTL metrics such as statement, branch, expression, and toggle coverage, combined with functional verification techniques from SystemVerilog to reach high quality HLS-aware coverage without slow and expensive RTL Simulation.
Ready to Have a Conversation About Catapult Coverage?
Any questions you may have, we will have the answers!
Join the IC Design Community
Join the discussion on new topics, features, content, and technical experts.
Catapult Support
Access detailed documentation, on-demand training resources and more.
EDA Consulting
Helping you achieve maximum business impact by addressing your complex technology and enterprise challenges with a unique blend of development experience, design knowledge, and methodology expertise.