{"showBreadcrumbs":true,"breadcrumbs":[{"title":"Siemens EDA Software","path":"/en-US/"},{"title":"IC Tool Portfolio","path":"/en-US/ic"},{"title":"Precision FPGA","path":"/en-US/ic/precision"},{"title":"Precision RTL Plus","path":""}],"tagline":"Overview","title":"Precision RTL Plus","description":" Siemens' flagship FPGA synthesis solution offering advanced optimizations, debug & validation technologies, and tight integration with the Siemens FPGA flow. It provides several unique features that enable every designer to reach design closure faster with a user-friendly validation environment.","pricingCurrency":"US$","image":{"url":"https://images.sw.cdn.siemens.com/siemens-disw-assets/public/2XXXEM9lhBZgyvUHyYcQl0/en-US/precision-rtl-plus-promo-640x480.jpg?w=640","linkData":"{\"name\":\"precision-rtl-plus-promo-640x480\",\"id\":\"2XXXEM9lhBZgyvUHyYcQl0\",\"contentType\":\"image/jpeg\"}"},"secondaryButton":{"text":"Read Fact Sheet","resource":{"mode":"selected","ids":["6TzUv3Q5y7GuzTIthWSEWX"],"query":{"verboseLocalization":true,"filters":[{"field":"collection","values":["resource"],"operator":"OR"}],"postFilters":[],"sorts":[{"field":"publishedDate","order":"desc"}],"q":"Precision"},"idsQuery":{"verboseLocalization":true,"size":1,"filters":[{"field":"collection","values":["resource"],"operator":"OR"},{"field":"id","values":["6TzUv3Q5y7GuzTIthWSEWX"],"operator":"OR"}]}},"env":"master","locale":"en-US"}}
Overview
Precision RTL Plus
Siemens' flagship FPGA synthesis solution offering advanced optimizations, debug & validation technologies, and tight integration with the Siemens FPGA flow. It provides several unique features that enable every designer to reach design closure faster with a user-friendly validation environment.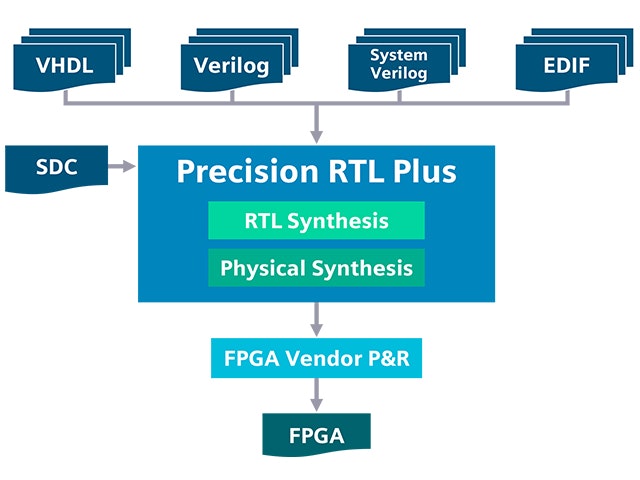 Key Features
Integrated FPGA Design Flow, Meeting Goals & Standards
 Successful FPGA design requires an integrated flow from design creation in C++/SystemC/HDL, design synthesis, design verification & validation to PCB design. The result is an optimal FPGA implementation that meets all the design requirements and enables designers to meet standards such as DO-254.
Ready to talk about Precision RTL Plus?
Any questions you may have, we will have the answers!
Join the IC Design Community
Join the discussion on new topics, features, content, and technical experts.
Precision Synthesis Support
Access detailed documentation, training resources and more.


EDA Consulting
Helping you achieve maximum business impact by addressing your complex technology and enterprise challenges with a unique blend of development experience, design knowledge, and methodology expertise.