{"showBreadcrumbs":true,"breadcrumbs":[{"title":"Siemens EDA Software","path":"/en-US/"},{"title":"IC Tool Portfolio","path":"/en-US/ic"},{"title":"PowerPro","path":"/en-US/ic/powerpro"},{"title":"Power Analysis","path":""}],"tagline":"Overview","title":"PowerPro Power Analysis","description":"PowerPro is the industry's most comprehensive power platform that provides fast and accurate power analysis of RTL/Netlist views of IPs/SoCs and helps fix the power wastage in the design in the shortest time to market.","pricingCurrency":"US$","image":{"url":"https://images.sw.cdn.siemens.com/siemens-disw-assets/public/6iBvEZRSaJ70p8R2DAPhlK/en-US/powerpro-power-analysis-promo-640x480.jpg?w=640","linkData":"{\"name\":\"powerpro-power-analysis-promo-640x480\",\"id\":\"6iBvEZRSaJ70p8R2DAPhlK\",\"contentType\":\"image/jpeg\"}"},"primaryButton":{"text":"Read Fact Sheet","env":"master","resource":{"mode":"selected","ids":["1DE067dbYvbNvshUKfOMts"],"query":{"verboseLocalization":true,"filters":[{"field":"collection","values":["resource"],"operator":"OR"}],"postFilters":[],"sorts":[{"field":"publishedDate","order":"desc"}],"q":"PowerPro"},"idsQuery":{"verboseLocalization":true,"size":1,"filters":[{"field":"collection","values":["resource"],"operator":"OR"},{"field":"id","values":["1DE067dbYvbNvshUKfOMts"],"operator":"OR"}]}},"locale":"en-US"},"secondaryButton":{"text":"Read White Paper","env":"master","resource":{"ids":["1rHTYGO6c6JBV8mHmXm8DM"],"mode":"selected","query":{"q":"Arm","sorts":[{"field":"publishedDate","order":"desc"}],"filters":[{"field":"collection","values":["resource"],"operator":"OR"}],"postFilters":[],"verboseLocalization":true},"idsQuery":{"size":1,"filters":[{"field":"collection","values":["resource"],"operator":"OR"},{"field":"id","values":["1rHTYGO6c6JBV8mHmXm8DM"],"operator":"OR"}],"verboseLocalization":true}},"leftIcon":false,"locale":"en-US"},"phoneIcon":false}
Overview
PowerPro Power Analysis
PowerPro is the industry's most comprehensive power platform that provides fast and accurate power analysis of RTL/Netlist views of IPs/SoCs and helps fix the power wastage in the design in the shortest time to market.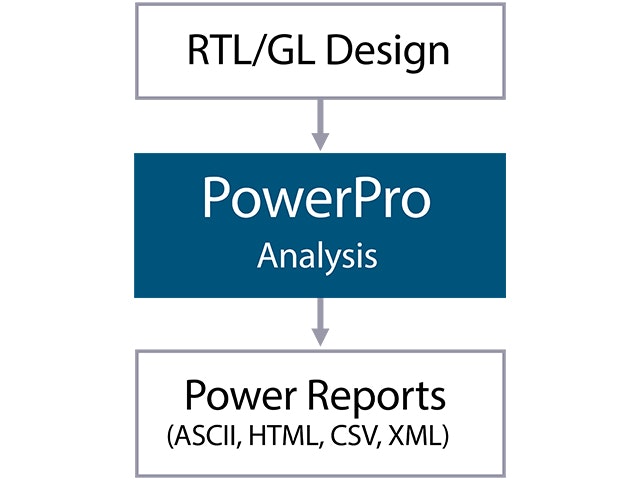 KEY FEATURES
Fastest Time-to-Power
Multi-core architecture that computes power in parallel allows an incremental Power Analysis flow that lets the designs to be compiled once and reused multiple times with different stimuli. The combination of incremental run and highly parallelized power computation delivers extremely fast results.
Ready to talk about Power Analysis?
Any questions you may have, we will have the answers!
Join the IC Design Community
Join the discussion on new topics, features, content, and technical experts.
PowerPro Support
Access detailed documentation, on-demand training resources and more.
EDA Consulting
Helping you achieve maximum business impact by addressing your complex technology and enterprise challenges with a unique blend of development experience, design knowledge, and methodology expertise.