{"showBreadcrumbs":true,"breadcrumbs":[{"title":"Siemens EDA Software","path":"/en-US/"},{"title":"IC Tool Portfolio","path":"/en-US/ic"},{"title":"Custom IC","path":"/en-US/ic/ic-custom"},{"title":"MEMS Design ","path":"/en-US/ic/ic-custom/mems-design"},{"title":"L-Edit MEMS","path":""}],"tagline":"Overview","title":"L-Edit MEMS","description":"L-Edit MEMS is the gold standard 3D MEMS design platform of choice. The Digital Twin of the MEMS devices begins with the design capture in L-Edit. MEMS designers benefit from a unified environment that supports MEMS device design, fabrication modeling and links to FEM analysis tools.","pricingCurrency":"US$","image":{"url":"https://images.sw.cdn.siemens.com/siemens-disw-assets/public/13rWLbjzy4LvsjtCJlnLUq/en-US/dtwin1.jpg?w=640","alt":"MEMS digital twin design flow diagram","linkData":"{\"name\":\"dtwin1\",\"id\":\"13rWLbjzy4LvsjtCJlnLUq\",\"contentType\":\"image/jpeg\"}"},"primaryButton":{"text":"Read Fact Sheet","resource":{"mode":"selected","ids":["7kWkiBDTW8kecIazh2ytAd"],"query":{"verboseLocalization":true,"filters":[{"field":"collection","values":["resource"],"operator":"OR"}],"postFilters":[{"field":"resourceType","values":["Fact Sheet"],"operator":"OR"}],"sorts":[{"field":"publishedDate","order":"desc"}],"q":"mems"},"idsQuery":{"verboseLocalization":true,"size":1,"filters":[{"field":"collection","values":["resource"],"operator":"OR"},{"field":"id","values":["7kWkiBDTW8kecIazh2ytAd"],"operator":"OR"}]}},"env":"master","locale":"en-US"},"secondaryButton":{"text":"Watch Webinar","resource":{"ids":["WB66544077"],"mode":"selected","query":{"q":"mems digital","sorts":[{"field":"publishedDate","order":"desc"}],"filters":[{"field":"collection","values":["resource"],"operator":"OR"}],"postFilters":[],"verboseLocalization":true},"idsQuery":{"size":1,"filters":[{"field":"collection","values":["resource"],"operator":"OR"},{"field":"id","values":["WB66544077"],"operator":"OR"}],"verboseLocalization":true}},"env":"master","locale":"en-US"}}
Overview
L-Edit MEMS
L-Edit MEMS is the gold standard 3D MEMS design platform of choice. The Digital Twin of the MEMS devices begins with the design capture in L-Edit. MEMS designers benefit from a unified environment that supports MEMS device design, fabrication modeling and links to FEM analysis tools.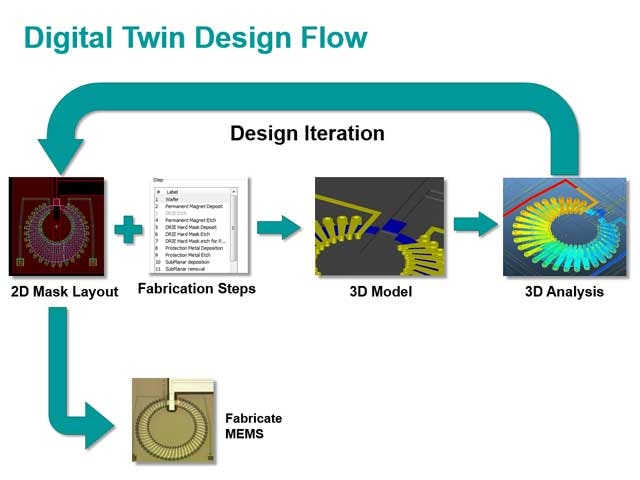 L-Edit MEMS is the Gold standard for MEMS design. With true native curve support, it is the only tool developed specifically for MEMS and IC design. It is the foundation of the MEMS digital twin, supporting device design, 3D fabrication modeling and simulation through partnerships.




Ready to talk to someone today?
We're standing by to answer your questions.
Get in touch with our sales team 1-800-547-3000 or 1-503-685-8000