{"showBreadcrumbs":true,"breadcrumbs":[{"title":"Siemens EDA Software","path":"/en-US/"},{"title":"IC Tool Portfolio","path":"/en-US/ic"},{"title":"Catapult High-Level Synthesis","path":"/en-US/ic/catapult-high-level-synthesis"},{"title":"Physical High-Level Synthesis","path":""}],"tagline":"Overview","title":"Catapult Physical Aware","description":"Taking Catapult to the next level by partnering with advanced RTL Synthesis technologies such as Synopsys DC-NXT, plus Siemens EDA's Oasys and Precision FPGA Synthesis. Catapult delivers improved QoR for Performance, Power and Area with latest process technologies.","pricingCurrency":"US$","image":{"url":"https://images.sw.cdn.siemens.com/siemens-disw-assets/public/44BXIGNKep1OlBJ10dd5J7/en-US/Catapult Physical Main Screen Shot 640x480.png?w=640","alt":"Catapult Physical Main","linkData":"{\"name\":\"Catapult Physical Main Screen Shot 640x480\",\"id\":\"44BXIGNKep1OlBJ10dd5J7\",\"contentType\":\"image/png\"}"},"secondaryButton":{"text":"Read Fact Sheet","env":"master","resource":{"ids":["117nas4GgrkL7g0WNcgyYw"],"mode":"selected","query":{"q":"Catapult High-Level Synthesis and Verification","sorts":[{"field":"publishedDate","order":"desc"}],"filters":[{"field":"collection","values":["resource"],"operator":"OR"}],"postFilters":[],"verboseLocalization":true},"idsQuery":{"size":1,"filters":[{"field":"collection","values":["resource"],"operator":"OR"},{"field":"id","values":["117nas4GgrkL7g0WNcgyYw"],"operator":"OR"}],"verboseLocalization":true}},"locale":"en-US"},"phoneIcon":false}
Overview
Catapult Physical Aware
Taking Catapult to the next level by partnering with advanced RTL Synthesis technologies such as Synopsys DC-NXT, plus Siemens EDA's Oasys and Precision FPGA Synthesis. Catapult delivers improved QoR for Performance, Power and Area with latest process technologies.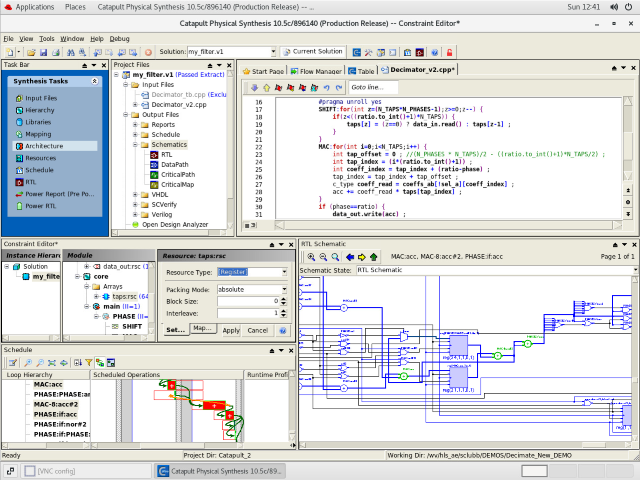 Key Features
A Closer Connection To Physical RTL Synthesis
As geometries decrease, estimation and interpolation of RTL operator synthesis for advanced FPGAs or ASIC multiVT effects becomes harder. To build optimal RTL, HLS must neither over-pipeline, nor under-pipeline the output RTL in order to tune the Performance, Power and Area results downstream.

Ready to have a conversation about Physical Aware?
Any questions you may have, we will have the answers!
Join the IC Design Community
Join the discussion on new topics, features, content, and technical experts.
Catapult Support
Access detailed documentation, on-demand training resources and more.
EDA Consulting
Helping you achieve maximum business impact by addressing your complex technology and enterprise challenges with a unique blend of development experience, design knowledge, and methodology expertise.