{"showBreadcrumbs":true,"breadcrumbs":[{"title":"Siemens EDA Software","path":"/en-US/"},{"title":"IC Tool Portfolio","path":"/en-US/ic"},{"title":"Catapult High-Level Synthesis","path":"/en-US/ic/catapult-high-level-synthesis"},{"title":"Catapult Low-Power","path":""}],"tagline":"Overview","title":"Catapult Low-Power HLS","description":"Catapult is the industry's first HLS tool that helps designers target power as an optimization goal. Leveraging PowerPro®'s best-in-class power analysis and optimization technology embedded inside of the HLS process, along with unique HLS optimizations, Catapult delivers the low power RTL you need.","pricingCurrency":"US$","image":{"url":"https://images.sw.cdn.siemens.com/siemens-disw-assets/public/7dmuQZkv0wcaZ0uyG8ORXW/en-US/Catapult_Screen_Shot_640x480 (1).png?w=640","alt":"Catapult Screen Shot","linkData":"{\"name\":\"Catapult Screen Shot 640x480 (1)\",\"id\":\"7dmuQZkv0wcaZ0uyG8ORXW\",\"contentType\":\"image/png\"}"},"primaryButton":{"text":"Read Fact Sheet","env":"master","resource":{"ids":["117nas4GgrkL7g0WNcgyYw"],"mode":"selected","query":{"q":"Siemens-SW-Catapult-HLS-HLV","sorts":[{"field":"publishedDate","order":"desc"}],"filters":[{"field":"collection","values":["resource"],"operator":"OR"}],"postFilters":[],"verboseLocalization":true},"idsQuery":{"size":1,"filters":[{"field":"collection","values":["resource"],"operator":"OR"},{"field":"id","values":["117nas4GgrkL7g0WNcgyYw"],"operator":"OR"}],"verboseLocalization":true}},"locale":"en-US"},"secondaryButton":{"text":"Read White Paper","env":"master","resource":{"ids":["7IJ1MvphqMD30o7xCBBT08"],"mode":"selected","query":{"q":"Catapult for a Power Optimized ESL Hardware Realization Flo","sorts":[{"field":"publishedDate","order":"desc"}],"filters":[{"field":"collection","values":["resource"],"operator":"OR"}],"postFilters":[],"verboseLocalization":true},"idsQuery":{"size":1,"filters":[{"field":"collection","values":["resource"],"operator":"OR"},{"field":"id","values":["7IJ1MvphqMD30o7xCBBT08"],"operator":"OR"}],"verboseLocalization":true}},"locale":"en-US"}}
Overview
Catapult Low-Power HLS
Catapult is the industry's first HLS tool that helps designers target power as an optimization goal. Leveraging PowerPro®'s best-in-class power analysis and optimization technology embedded inside of the HLS process, along with unique HLS optimizations, Catapult delivers the low power RTL you need.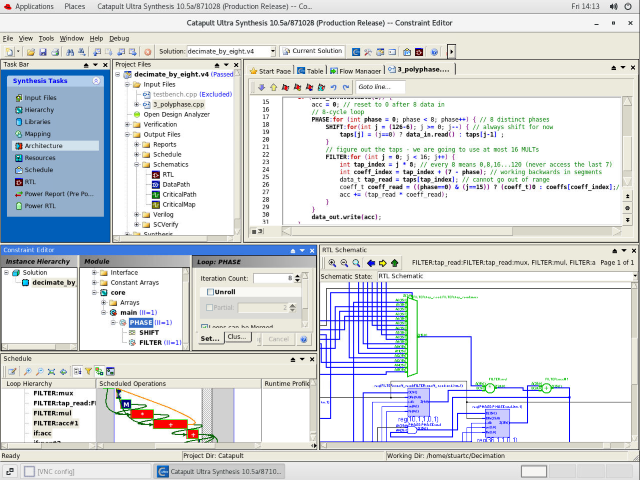 KEY FEATURES
Rapidly Explore and Optimize for Power
Catapult accelerates exploring different architecture tradeoffs and measures the power, performance and area for each HLS solution. Catapult automatically performs fine grained power-saving optimizations aimed at minimizing switching activity in the RTL to deliver the greatest power savings.
Ready to have a conversation about Catapult Low-Power?
Any questions you may have, we will have the answers!
Join the IC Design Community
Join the discussion on new topics, features, content, and technical experts.
Catapult Support
Access detailed documentation, on-demand training resources and more.
EDA Consulting
Helping you achieve maximum business impact by addressing your complex technology and enterprise challenges with a unique blend of development experience, design knowledge, and methodology expertise.