{"showBreadcrumbs":true,"breadcrumbs":[{"title":"Siemens EDA Software","path":"/en-US/"},{"title":"IC Tool Portfolio","path":"/en-US/ic"},{"title":"Custom IC","path":"/en-US/ic/ic-custom"},{"title":"Photonic Design","path":"/en-US/ic/ic-custom/photonic"},{"title":"L-Edit Photonics","path":""}],"tagline":"Overview","title":"L-Edit Photonics","description":"Design your photonic integrated circuit in a layout centric flow. The designer can implement their design using either a drag and drop or a script-driven methodology. Both of those are in the same full custom IC design layout editor that drives the physical verification and tape-out processes.","pricingCurrency":"US$","image":{"url":"https://images.sw.cdn.siemens.com/siemens-disw-assets/public/4s9XI70oGrGeb6uUQ5j2e6/en-US/lidar-promo-640x480.jpg?w=640","linkData":"{\"name\":\"lidar-promo-640x480\",\"id\":\"4s9XI70oGrGeb6uUQ5j2e6\",\"contentType\":\"image/jpeg\"}"},"primaryButton":{"text":"Read Fact Sheet","resource":{"mode":"selected","ids":["6hN1ERsXUH06dbacaT5kpT"],"query":{"q":"L-Edit ","sorts":[{"field":"publishedDate","order":"desc"}],"filters":[{"field":"collection","values":["resource"],"operator":"OR"}],"postFilters":[{"field":"resourceType","values":["webinar","Fact Sheet"],"operator":"OR"}],"verboseLocalization":true},"idsQuery":{"verboseLocalization":true,"size":1,"filters":[{"field":"collection","values":["resource"],"operator":"OR"},{"field":"id","values":["6hN1ERsXUH06dbacaT5kpT"],"operator":"OR"}]}},"env":"master","locale":"en-US"},"secondaryButton":{"text":"Watch Webinar","resource":{"mode":"selected","ids":["WB68534336"],"query":{"verboseLocalization":true,"filters":[{"field":"collection","values":["resource"],"operator":"OR"}],"postFilters":[{"field":"resourceType","values":["webinar"],"operator":"OR"}],"sorts":[{"field":"publishedDate","order":"desc"}],"q":"Lidar"},"idsQuery":{"verboseLocalization":true,"size":1,"filters":[{"field":"collection","values":["resource"],"operator":"OR"},{"field":"id","values":["WB68534336"],"operator":"OR"}]}},"env":"master","locale":"en-US"},"phoneIcon":true}
Overview
L-Edit Photonics
Design your photonic integrated circuit in a layout centric flow. The designer can implement their design using either a drag and drop or a script-driven methodology. Both of those are in the same full custom IC design layout editor that drives the physical verification and tape-out processes.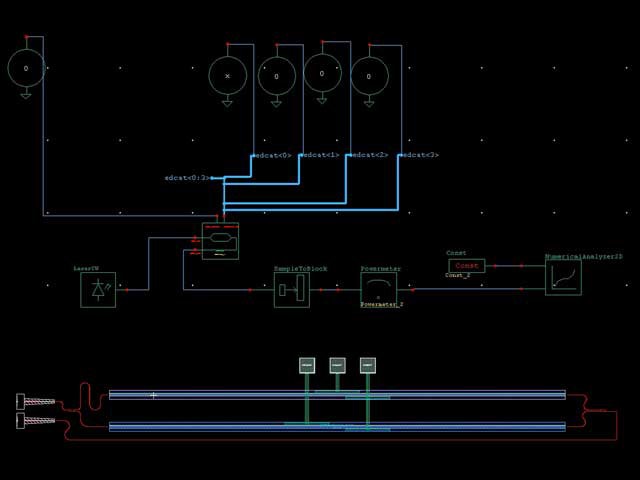 KEY FEATURES
Photonic Design
L-Edit Photonics enables the fast creation of a photonic design using a drag and drop methodology in an IC layout editor, without having to write a single line of code. Once the design is completed, a netlist can be extracted for photonic simulation.
Ready to talk to someone today?
We're standing by to answer your questions.
Get in touch with our sales team 1-800-547-3000 or 1-503-685-8000