{"showBreadcrumbs":true,"breadcrumbs":[{"title":"Siemens EDA Software","path":"/en-US/"},{"title":"Electronic Systems Design","path":"/en-US/pcb"},{"title":"PADS PCB Design Software","path":"/en-US/pcb/pads"},{"title":"PADS Professional","path":"/en-US/pcb/pads/professional"},{"title":"Routing Automation","path":""}],"tagline":"Overview","title":"PCB Routing Automation","description":"Routing automation reduces PCB layout up to 80%. With electronics design becoming more complex, automation a major competitive advantage for both experienced designers and engineers who "do-it-all".","pricingCurrency":"US$","image":{"url":"https://images.sw.cdn.siemens.com/siemens-disw-assets/public/2eqLoFEdZimSl4XPJRzrM3/en-US/Routing_Automation-640x480.png?w=640","linkData":"{\"name\":\"Routing Automation-640x480\",\"id\":\"2eqLoFEdZimSl4XPJRzrM3\",\"contentType\":\"image/png\"}"},"secondaryButton":{"text":"Watch Webinar","env":"master","resource":{"ids":["WB66530769"],"mode":"selected","query":{"q":"everything","sorts":[{"field":"title","order":"asc"}],"filters":[{"field":"collection","values":["resource"],"operator":"OR"}],"postFilters":[],"verboseLocalization":true},"idsQuery":{"size":1,"filters":[{"field":"collection","values":["resource"],"operator":"OR"},{"field":"id","values":["WB66530769"],"operator":"OR"}],"verboseLocalization":true}},"locale":"en-US"},"phoneIcon":true,"moreInformation":"Get in touch with our sales team 1-800-547-3000"}
Overview
PCB Routing Automation
Routing automation reduces PCB layout up to 80%. With electronics design becoming more complex, automation a major competitive advantage for both experienced designers and engineers who "do-it-all".
---
Get in touch with our sales team 1-800-547-3000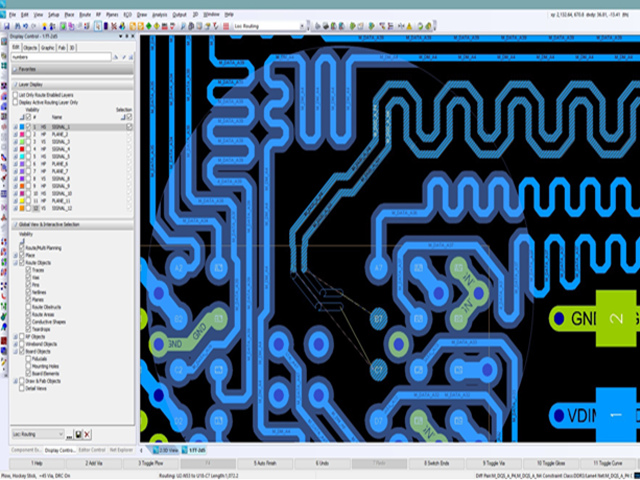 Key Features
Accelerating Time-to-Results with Routing Automation
PADS Professional delivers unique technologies that combine ease-of-use with highly automated PCB routing functionality resulting in high quality and accelerated time-to-results, even for complex PCB designs.
Explore PADS Professional with Our Cloud-Enabled Trial
Explore PADS Professional with our cloud-enabled trial. Create a design from start to finish, and see how easy it is to use its advanced technology including rigid-flex design, RF design, and advanced routing, including HDI and area rules, to help get your job done faster!