{"showBreadcrumbs":true,"breadcrumbs":[{"title":"Siemens EDA Software","path":"/en-US/"},{"title":"Electronic Systems Design","path":"/en-US/pcb"},{"title":"PADS PCB Design Software","path":"/en-US/pcb/pads"},{"title":"PADS Professional","path":"/en-US/pcb/pads/professional"},{"title":"Rigid-Flex PCB Design","path":""}],"tagline":"Overview","title":"Rigid-Flex PCB Design","description":"From flex/rigid-flex operations that understand unique structures, constraints, plane management, materials, and stack-ups, PADS Professional has the features to support flex/rigid-flex design. ","pricingCurrency":"US$","image":{"url":"https://images.sw.cdn.siemens.com/siemens-disw-assets/public/9mzkkuAfCfEbrjKNQFpCe/en-US/Rigid_Flex_640x480.png?w=640","alt":"Screenshot demonstration of Regid Flex","linkData":"{\"name\":\"Rigid Flex 640x480\",\"id\":\"9mzkkuAfCfEbrjKNQFpCe\",\"contentType\":\"image/png\"}"},"secondaryButton":{"text":"Watch Webinar","env":"master","resource":{"mode":"selected","ids":["WB66708912"],"query":{"verboseLocalization":true,"filters":[{"field":"collection","values":["resource"],"operator":"OR"}],"postFilters":[],"sorts":[{"field":"publishedDate","order":"desc"}],"q":"hat Technology Should Your PCB Tool Have To Design Rigid-flex Circuits Properly"},"idsQuery":{"verboseLocalization":true,"size":1,"filters":[{"field":"collection","values":["resource"],"operator":"OR"},{"field":"id","values":["WB66708912"],"operator":"OR"}]}},"locale":"en-US"},"phoneIcon":true,"moreInformation":"Get in touch with our sales team 1-800-547-3000"}
Overview
Rigid-Flex PCB Design
From flex/rigid-flex operations that understand unique structures, constraints, plane management, materials, and stack-ups, PADS Professional has the features to support flex/rigid-flex design.
---
Get in touch with our sales team 1-800-547-3000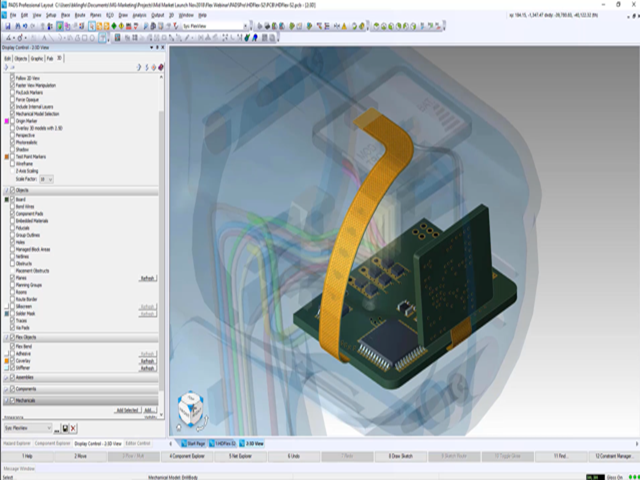 Key Features
Design and Validate Complex Rigid-flex Structures
Design and validate complex rigid-flex structures with the correct-by-construction environment of PADS Professional simplifying the design process of creating complex rigid-flex stack-ups.
Explore PADS Professional with Our Cloud-Enabled Trial
Explore PADS Professional with our cloud-enabled trial. Create a design from start to finish, and see how easy it is to use its advanced technology including rigid-flex design, RF design, and advanced routing, including HDI and area rules, to help get your job done faster!