{"showBreadcrumbs":true,"breadcrumbs":[{"title":"Siemens EDA Software","path":"/en-US/"},{"title":"Electronic Systems Design","path":"/en-US/pcb"},{"title":"PADS PCB Design Software","path":"/en-US/pcb/pads"},{"title":"PADS Professional","path":"/en-US/pcb/pads/professional"},{"title":"Electro-Mechanical Co-Design","path":""}],"tagline":"Overview","title":"ECAD/MCAD Co-Design","description":"Poor communication between PCB designers and mechanical engineers can cause projects to miss schedule and cost targets by 50% or more. When these teams can collaborate in real-time they can make sure the PCBs will fit perfectly in their mechanical housing prior to fabrication.","pricingCurrency":"US$","image":{"url":"https://images.sw.cdn.siemens.com/siemens-disw-assets/public/1vdHUnCPaJONXyMQi0okyp/en-US/ecad-mcad-01-promo-640x480.jpg?w=640","linkData":"{\"name\":\"ecad-mcad-01-promo-640x480\",\"id\":\"1vdHUnCPaJONXyMQi0okyp\",\"contentType\":\"image/jpeg\"}"},"secondaryButton":{"text":"Watch Webinar","env":"master","resource":{"mode":"selected","ids":["WB66708879"],"query":{"verboseLocalization":true,"filters":[{"field":"collection","values":["resource"],"operator":"OR"}],"postFilters":[],"sorts":[{"field":"publishedDate","order":"desc"}],"q":"Electro-Mechanical Co-Design for Competitive Advantage webinar"},"idsQuery":{"verboseLocalization":true,"size":1,"filters":[{"field":"collection","values":["resource"],"operator":"OR"},{"field":"id","values":["WB66708879"],"operator":"OR"}]}},"locale":"en-US"},"phoneIcon":true,"moreInformation":"Get in touch with our sales team 1-800-547-3000"}
Overview
ECAD/MCAD Co-Design
Poor communication between PCB designers and mechanical engineers can cause projects to miss schedule and cost targets by 50% or more. When these teams can collaborate in real-time they can make sure the PCBs will fit perfectly in their mechanical housing prior to fabrication.
---
Get in touch with our sales team 1-800-547-3000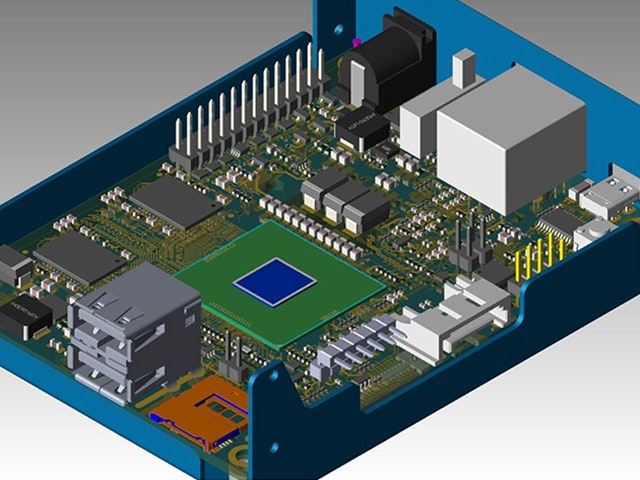 Key Features
Accelerating ECAD/MCAD Co-Design
Quickly and accurately communicate design intent between electrical and mechanical CAD systems. With PADS Professional both the PCB and the mechanical engineer stay in sync, leveraging best-in-class data exchange standards, making collaboration convenient, accurate, and effective.
Explore PADS Professional with Our Cloud-Enabled Trial
Explore PADS Professional with our cloud-enabled trial. Create a design from start to finish, and see how easy it is to use its advanced technology including rigid-flex design, RF design, and advanced routing, including HDI and area rules, to help get your job done faster!