{"showBreadcrumbs":true,"breadcrumbs":[{"title":"Siemens EDA Software","path":"/en-US/"},{"title":"Electronic Systems Design","path":"/en-US/pcb"},{"title":"HyperLynx","path":"/en-US/pcb/hyperlynx"},{"title":"HyperLynx DRC","path":""}],"tagline":"Overview","title":"HyperLynx DRC","description":"HyperLynx DRC provides fast, automated electrical design rule checking and supports iterative design inspection. Designers can run complex checks for problems that are not easily simulated, such as traces crossing splits, signal return path issues, and compliance with electrical safety requirements.","pricingCurrency":"US$","image":{"url":"https://images.sw.cdn.siemens.com/siemens-disw-assets/public/6XgIOt7UejXzcpJbSjFNin/en-US/hyper-lynx-promo-640x480.jpg?w=640","alt":"Hyper lynx promo\n","linkData":"{\"name\":\"hyper-lynx-promo-640x480\",\"id\":\"6XgIOt7UejXzcpJbSjFNin\",\"contentType\":\"image/jpeg\"}"}}
Overview
HyperLynx DRC
HyperLynx DRC provides fast, automated electrical design rule checking and supports iterative design inspection. Designers can run complex checks for problems that are not easily simulated, such as traces crossing splits, signal return path issues, and compliance with electrical safety requirements.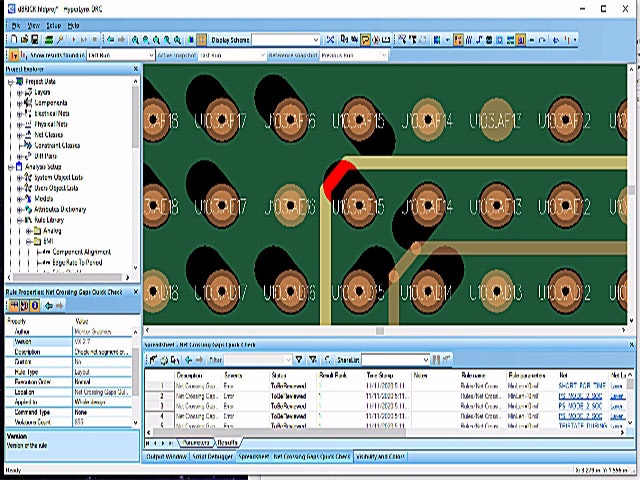 Key Features
Automating Electrical Sign-Off
HyperLynx DRC ensures design rule compliance with analog, EMI, IC packaging, power integrity, signal integrity and electrical safety requirements.